---
Adult Winter Reading and the most popular books of 2020
by Beth Cronk, County Librarian
This year's Adult Winter Reading Program began January 15 at the Litchfield Public Library and runs until March 15. Sign up any time in January or February.
As in previous years, participants read and rate books to earn prizes. Winter can be a good time to have a reading goal, and this year it's true more than ever. Participants get one prize after reading 3 books, and another after reading 3 more.
It's possible to participate in this year's program without ever setting foot inside the library if you choose. Everything can be done either inside the library or through curbside service.
To participate in the program, ask to sign up when you call from outside to pick up your things curbside, or sign up when you're in the library for a Library Express appointment. Participants will get a reading log, a bookmark, and a small portable hand sanitizer container with a clip. The hand sanitizer is this year's sign-up incentive instead of the usual tote bag. Bags will be available as a prize choice.
Any type of book can be counted for the program: new or old, library book or your own, fiction or nonfiction, ebook, audiobook, or print. Write down your books on the reading log and rate them.
When you have read 3 books and again when you have read 3 more, you can turn in your reading log inside the library at your Library Express time and claim your prizes on the spot, or you can put your reading log in the book drop to get your prizes through curbside pickup. Before dropping the sheet into the book drop, be sure to write down your prize choice. Library staff will be in contact if that prize is no longer available. If you have your heart set on a particular prize, turn in your sheet after reading 3 books so that it's more likely to still be available. We'll return your sheet to you with your first prize so that you can complete the program.
Prize choices this year include a mug, a tote bag, a memo book, a large candy bar, and an insulated bottle cover.
So what will you read if you participate in the adult winter reading program? You could look for ideas among the most popular books at the library from this past year.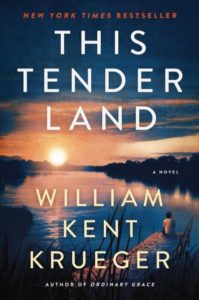 The most popular adult novel in Pioneerland Library System in 2020 was This Tender Land by William Kent Krueger. Krueger is a beloved and best-selling Minnesota author, known for his Cork O'Connor mystery series set in northern Minnesota. "This Tender Land" is his newest novel, released in late 2019, but it is not part of that mystery series. It's a standalone coming-of-age novel about 4 orphans, set in the 1930s. Hutchinson Library has chosen this book for their One Book, One Community read for this year.
The other novels in the adult fiction top 10 for last year were Where the Crawdads Sing by Delia Owens, The Giver of Stars by Jojo Moyes, Camino Winds by John Grisham, Long Range by C.J. Box, Masked Prey by John Sandford, Blue Moon by Lee Child, A Walk Along the Beach by Debbie Macomber, The Guardians by John Grisham, and A Minute to Midnight by David Baldacci.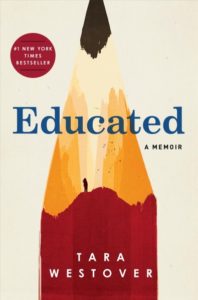 The most popular adult nonfiction book in the library system last year was Educated by Tara Westover. This memoir from 2018 tells the author's story of growing up in a survivalist family in rural Idaho and how she educated herself to transform her life.
The other books in the adult nonfiction top 10 for 2020 were Before and After: The Incredible Real-Life Stories of Orphans Who Survived the Tennessee Children's Home Society by Judy Pace Christie, Becoming by Michelle Obama, The House of Kennedy by James Patterson and Cynthia Fagen, The Splendid and the Vile: A Saga of Churchill, Family, and Defiance During the Blitz by Erik Larson, Too Much and Never Enough: How My Family Created the World's Most Dangerous Man by Mary L. Trump, Untamed by Glennon Doyle, White Fragility: Why It's So Hard for White People to Talk About Racism by Robin DiAngelo, Just Mercy: A Story of Justice and Redemption by Bryan Stevenson, and Finding Chika: A Little Girl, and Earthquake, and the Making of a Family by Mitch Albom.
Whether you like to read the most popular books or you want to find something obscure, the library staff is always happy to help you find a book you want to read.
---
Library column for January 20, 2021
By Rachelle Golde, Litchfield Children's Librarian
The Litchfield Public Library is currently offering a nonfiction reading challenge for children and teens. The reading logs can be picked up from the Litchfield library during a 15-minute browsing appointment or during curbside pickup. Just ask the library staff for a copy of the children's or teen log for your children.  You can also print your own copies from the children's page on the Litchfield Library website. Please note that this nonfiction reading challenge is separate from the adult winter reading program.
Even very young children can participate in this reading challenge if they have someone read the books aloud to them. The library does have many easy to read and understand nonfiction books that are specifically written for our youngest readers. Children can learn a lot from books that are read aloud to them even if the book is at a higher level of reading. This can often prompt lots of questions and lead to new discoveries for the very young reader as well as older readers. It is wonderful to let children select books that they are interested in even if the reading level is too high or too low- this is about encouraging a love of reading and developing a reader identification for themselves. This is not about finding the perfect leveled reader for the child, unless that is what the child wants to do.
Nonfiction books are an excellent way to allow kids to safely explore their world and investigate topics that they are interested in. Nonfiction books also are great for building vocabulary and expanding background knowledge and can also help children and teens create connections and understanding of their own personal experiences. Reading nonfiction varies from reading fiction as the reader is reading for content and information, however, this does not make nonfiction boring and unenjoyable. Quite the opposite in fact! Nonfiction reading sparks a child's imagination and curiosity about the world and gives them the resources they need in order to find answers to their many, many questions.
Sometimes finding nonfiction books at a library can be intimating with the rows of bookshelves and all those numbers on the book spines. The library staff at the Litchfield Public Library are always happy to help you locate materials. If we do not have it on the shelf, most often we can find it and order it through interlibrary loan. For those of you who like to browse the shelves, I have a simplified explanation of the Dewey Decimal System for you; this is the method that we use to organize the books on the shelves within the Pioneerland Library System, which Litchfield is a part of.
A quick break down of Dewey:
000: general knowledge, encyclopedias, journalism
100: philosophy, paranormal, psychology, logic, ethics, morals and values,
200: religions
300: society, community, education, government, politics; fairytales and folklore are in the 390's
400: languages, alphabet books, early picture dictionaries
500: math, sciences, plants, dinosaurs and animals
600: technology, health & medicine, farming, buildings, vehicles—find those farm books and cars and trucks books here
700: arts, music, sports
800: literature, poetry
900: geography and history- find some awesome biographies and books about countries and states!
So, whether your child or teen needs a nonfiction book for a school project or a sudden new interest they must know everything about, I hope you will be brave and dive into the world of nonfiction books. However, if you ever feel lost within these shelves, the Litchfield Library is happy to point you in the right direction or dive deeper to locate a title for you.
Until next time, happy reading!
---
Getting Through Pandemic Winter with the Library
by Beth Cronk, County Librarian
January is here, with the hope that comes from the start of a new year. Even so, we have a way to go before our pandemic winter is over. We know that having books to read and DVDs to watch is even more important these days, as they help us pass the time at home and escape the stresses of life. The library continues to be available to help you check out the things you need.
Curbside pickup remains available during all of the library's business hours, as is help over the phone. You never need to set foot in the library to get the books and other library materials you want to check out; we're happy to work with you to order things and then deliver them to the table in front of the library when you call from outside to pick them up. Curbside is a bustling business for us these days.
If you would like to come in, you can do that, too. The library is open; you just need to call to make a reservation, and there are time, age, and capacity limits. (Anyone age 12 and under must have an adult with them.) You can call to reserve a 15-minute Library Express appointment to browse the shelves and pick things out, to get a library card, or to make photocopies. If you need a computer, you can schedule a 1-hour appointment for that. Both types of appointments are available all day and evening and they can almost always be scheduled on short notice. If you're running errands, feel free to call us and see if the library can be your next stop. For Library Express, the answer will almost always be yes, even if you're calling from the parking lot.
We work hard to make the library a safe place for everyone to visit, and we strive to keep our staff healthy to keep the library operating for you. Face coverings are 100% required inside except for children age 5 and younger. We have plexiglass in place at all of the service desks. The computer keyboards and mice are cleaned and switched out between users, and space is blocked off around the computers to avoid having other people wandering into their 6-foot space. Staggering visitors and limiting the length of visits also helps make the building safer. As renowned epidemiologist Dr. Michael Osterholm says, we need to "stop swapping air," and all of these measures – and especially the curbside service – help reduce your chances of sharing air with others when you do your library business.
We have reduced the quarantine time for returned library materials to 24 hours, instead of the 72 it had been. The science is showing that surfaces don't play a big role in transmitting coronavirus, so setting them aside for even 24 hours is precautionary. There may still be that little delay in getting your items checked in, but we set the date back to the day you actually returned them when we check them in.
Here's the urgent question I've been getting lately: Is the adult winter reading program happening this year? Yes, it is! Like many other things these days, our materials for the program are taking extra time to get here. I've been holding off on starting until we have more than one of the prizes for you. Even if we're still waiting for things to arrive, we're going to start the program by January 15th. I know many people like to have that goal to read their three or six books to earn prizes during the winter when things are quiet and they stay home more, and that's even more the situation this year! We will have mugs as a prize choice again this year, plus other options. If you come into the library for an appointment, you can turn in and pick up your winter reading things then, or you can pick up your reading log and prizes through curbside and drop off your completed sheet in the book drop. You can definitely participate in the program without ever having to come inside the library.
One last thing: if you're looking for a virtual book club to keep life interesting this winter, we have a couple of choices. The Litchfield Library Adult Book Club meets on the second Tuesday of each month at noon, reading a variety of types of books. In recent months and for most of last year we've been meeting on Zoom, although we met outside a few times in the fall. That group has been going for years and will be for the foreseeable future.
We also have the Deep Dive Book Club: Reconstruction & Redemption, which is meeting on Google Meet every other Tuesday night at 7:00 through March. That's a 7-session program that's more like a class, taught remotely by a Black Studies scholar, with a wide variety of readings, podcasts and videos for gaining a more robust understanding of the Black American experience from 1865 through 1920. The first Deep Dive book club we did this fall was wonderful, and I highly recommend it.
Contact me by phone or email if you're interested in signing up for either book club, or if you need help getting something to read or watch. I wish you health and happiness in 2021!
---
Library column for Jan. 6, 2021
by Rachelle Golde, Litchfield Children's Librarian
Happy New Year from the Litchfield Public Library! With each New Year, I like to spend a little time reflecting on the past year and thinking about the year to come. In the past, as part of this ritual, I have included reading goals. I have used reading challenge lists, notebooks for lists, and various apps to track my reading. I like to use the Goodreads app. because it is quick to add a title and it keeps track of what I have read throughout time, but this only works when I remember to add the titles that I am reading to the app.
As I have been reflecting on the year 2020, remembering the stressful and even scary times we have had this year, I am also remembering the good times and silver linings. This makes me think that perhaps, rather than trying to reach a number goal for reading I will focus more on the experience of reading. With everything that must be done each day trying to hit number goals for reading can have its downfalls. Yes, it does help some of us to stay on track and keep reading but it can also cause added stress. When trying to hit numbers, I find that I also will skip over books that might take too long to read (I say that I am saving them for later) and chose more fluffy reads that I can get through quickly just so I can reach my reading quotas.
Creating reading lists and goals for children can be a fun way to help encourage children to keep reading. But like adults, it's about finding the right balance and method for tracking their reading. We do not want reading to become a chore or an "I have to" experience as it takes the joy of reading away. The main goal is to create an encouraging and supportive environment for children to explore books in their way. This way children grow to love reading and will continue to read throughout their lives. However, here are a few low-stress, easy, and fun options to help children to track their reading:
A blank calendar where the child can write down the number of minutes or the title of the book that they read each day
A sticker chart: for time read or to mark off chapters in a book or even to mark off titles.
Let them decorate a notebook and they can start a list of the titles they read in the notebook.
Older children and teens can track their reading in an app or make a Google Sheet.
Find any number of reading challenges listed online for children and teens. Many have printable logs. Check with your library if there are any current reading challenges available.
The Litchfield library has a winter nonfiction reading challenge for children and teens. This kicks off on Monday, January 4th. You can get your reading log by printing it off from the library's website or request a copy of the log at your next curbside pickup or 15-minute browsing appointment. Instructions for the reading challenge are included in the reading logs.
Make sure to check out the library's website for current library news, programs, and services. And to print off reading logs for the nonfiction reading challenge for your children and teens.
To make reading a stress-free activity, this year I am going to focus on just reading the titles I want to read and settle into the full experience of each book rather than trying to hit a number goal. What are your 2021 reading plans? Let us know on Facebook or Twitter.
Until next time, happy reading!
---
Library column for December 23, 2020
By Rachelle Golde, Litchfield Children's Librarian
Did you know that birds and butterflies have four cones in their eyes to see color while humans usually have three, and cats and dogs only have two? Neither did I, until last night while going through our usual bedtime routine with our kids. One part of our routine is to read aloud at least one book with the kids before we tuck them in for the night. We recently checked out several nonfiction picture books which have been newly added to the library collection. Gone are the days of "boring" wordy encyclopedia-like nonfiction books for children.  Recent nonfiction books for children have become beautiful works of art that house a wealth of information expressed at a level of understanding children can easily grasp.  The book that I discovered the facts about animal eyes is titled:
 "Eye By Eye: Comparing How Animals See" by Sara Levine was a fascinating read for both myself and my kids! I learned about the structures of various animals' eyes and why they are shaped the way that they are. The illustrations show what the various eyes would look like on humans, which got a lot of "oh cool!" or "gross!" remarks as I read the book aloud.  Other nonfiction picture books that we have read recently include:
 "All the Birds in the World" by David Opie- This brightly colored picture book explains the unique features of birds, including the very bizarre birds like the kiwi. Each detailed, photograph like illustration brings the various types and parts of birds to life for the reader. The illustrations each have map guides in the back of the book to help the reader identify the birds on each page of the book. It is a fun and informative read with a cute little kiwi bird that states repeatedly "What about me?"; the kids loved being the voice of this little bird. A great read for bird watchers of all ages, science units or an informative and entertaining book to read for fun.
"Perkin's Perfect Purple: How a Boy Created Color with Chemistry" by Tami Lewis Brown and Debbie Loren Dunn- This book is also full of brightly colored pictures and tells the story of how the color purple was created. The color purple was once a very rare and difficult color to make, which was why it was known for royalty until a boy, William Henry Perkin, accidentally discovered a way to create the color purple with his chemistry set. The author also includes a short biography of Perkin and an explanation of what color is and how Perkin's invention for making colors changed the world. There is also a list of resources for further exploration of this topic for kids.  A wonderful historical science read for all ages.
"History of the World in Comics" by Jean-Baptiste de Panafieu- This nonfiction graphic novel is an awesome explanation of the world from the beginning of time to modern days. It even includes some fun possibilities for the future of our Earth. This book is recommended for ages 10 and up if the child is reading on their own but can be a shared read with younger ages.
One is never too old to learn something new from a book, even a children's book!  You might even be surprised to learn a new fact from reading aloud to a child. You can browse through our nonfiction collections online or make an appointment for a 15-minute browsing appointment. With this upcoming new year, I challenge myself, my kids, and you to keep exploring new ideas through reading nonfiction, as well as, fiction books. Who knows? Maybe you will stumble upon a little gem of wisdom.  Until next time, happy reading!
---
Library column for December 9, 2020
By Rachelle Golde, Litchfield Children's Librarian
Hello from the Children's Desk! With the increasing numbers of Covid cases, we are staying home more and our kids are schooling at home most of the time.  Mix in the colder weather and we can all experience a case of the "I'm bored!"  This is when your library can be a huge help. Not only do we have books for every age and interest we also offer Take & Make kits and other digital programs.  The Take & Make kits are small craft kits for ages 3-12 years old. We also offer take-home Makerspace kits for older kids and teens. Check the Litchfield Public Library's website and social media such as Facebook and Twitter to get up to date information on programs and when these kits are available for pickup.
I also want to mention that the library has many how-to books about crafts, sewing, science and STEM projects, writing prompts, cooking and baking, and games. This is a great way to create something such as holiday decorations, school projects, and homemade gifts.  These books are available for children, teens, and adults across the library collections. Some examples of books that we have in our children's collection at the Litchfield library include:
 "Homemade Fun: 101 Crafts and Activities to do with Kids" by Rae Grant
 "Recycled Crafts Box: Sock Puppets, Cardboard Castles, Bottle Bugs and 37 More Earth-Friendly Projects & Activities You Can Create" by Laura C. Martin
"Cool Engineering Projects: Fun & Creative Workshop Activities" by Rebecca Felix
 "Edible Science: Experiments You Can Eat" by Jodi Wheeler-Toppen
 "A Kid's Guide to Sewing: Learn to Sew with Sophie & Her Friends: 16 Fun Projects You'll Love to Make & Use" by Sophie Kerr
"Learning to Knit" by Dana Meachen Rau
"Picture Yourself Writing Poetry: Using Photos to Inspire Writing" by Laura Purdie Salas
 "Bad Kitty Makes Comics…: And You Can Too!" By Nick Bruel
 "The Big, Fun Kids Cookbook" by Food Network
"Come to My Tea Party: A Cookbook for Children" by Nancy Akmon
"The Great Games Book: Over 30 Popular Games to Make and Play From Around the World" by Susan Adams
 "Big Book of Playtime Activities" by Ray Gibson
Doing crafts, games, cooking and other D.I.Y. projects with children is more than just a way to keep them busy.  These types of activities teach children many concepts to include math, science, literacy, and life-skills.  When a child completes a project they also get a boost in their self-esteem, especially if they were able to do most of the creating work themselves. Keep in mind it is more about the process and experience than having a picture-perfect final result.  If possible, display the child's creations proudly somewhere in your home where everyone can see them.
Be sure to check the online library catalog for activity books in your range of interests or give the library a call and we also help you get books.  Remember to check our website to find out when our Take & Make kits are available for pick up.
Until next time, happy reading!
---
Library column for November 25, 2020
By Rachelle Golde, Litchfield Children's Librarian
Happy Thanksgiving from the Children's Desk!  At this point, most of us are already thinking ahead to seasonal to-do lists which often include holiday shopping for our loved ones. As a librarian, my go-to gifts to give always include books. You can give the gifts of adventure, mystery, and knowledge all found in the pages of books. And a bonus feature is that books are usually easy to wrap!  I have put together a list of books that I would personally recommend as great gift options for children and teens.  The lists are split into three categories: children's picture books, children's chapter books, and books for teens. The books that I chose to include on these lists are books that were published this last year in 2020 and have either been read or reviewed by myself personally. Please note that this list is not exhaustive and the books are not listed in any order within their categories. I am happy to help you with more personalized recommendations. There are many more wonderful books that can be recommended for each of the categories.  If you would like a more personalized book recommendation, please feel free to email me at rachelle.golde@pioneerland.lib.mn.us with a detailed message.  And now … drum roll please…for the fun part… the book lists!
Children's Picture Books:
My Favorite Color by Aaron Becker: This beautiful book is best read with a light source to shine through the die-cut pictures. The book explores colors and their spectrums though nature. Who said we can only have one favorite color?
Tiny T. Rex and the Very Dark Dark by Jonathan Stutzman: Tiny T. Rex is off on another adventure. In this story he must face his fear of the dark. Very sweet.
Jack at Bat by Marc Barnett and Greg Pizzoli: this series is great for those looking for an easy reader for beginning readers.
Bedtime for Sweet Creatures: by Nikki Grimes: an adorable toddler fights bedtime while the child's mother weaves creative stories about animals and the child's behaviors. Beautifully illustrated and poetically written.
Children's Chapter Books:
Spindlefish and Stars by Christiane M. Andrews: This Greek mythology inspired fantasy inspires readers to choose their own paths, untangle mysteries and explore the power of storytelling.
Before the Ever After by Jacqueline Woodson: This novel in verse explores ZJ's relationship with his father as he copes with a long term football injury. Can they find common ground to stay connected?  This is a touching, emotional story of the bonds and strength of family while going through difficult times.
The Ickabog by J.K. Rowling: This fast-paced fairy tale is full of humor, monsters and epic adventures.
Village of Scoundrels by Margi Preus: This historical fiction story is based on a true story of WWII where a group of teens help to save refugees. This is an edge of your seat read!
Teens Books:
The Kingdom of Back by Marie Lu: A fictional story of Wolfgang Mozart and his sister Nannerl as they dream of making history with their music. When a magical stranger offers to help will Nannerl risk everything?
Stamped: Racism, Antiracism, and You by Jason Reynolds and Ibram X. Kendi: A history lesson told in a causal, relatable and even humorous language that will keep teens reading, thinking, and asking questions. This book challenges us to think about our personal ideas and beliefs of history.
One of Us is Next by Karen M. McManus: The sequel to "One of us is Lying" this thriller continues the mystery with a whole new set of problems with a deadly game of truth or dare.
The Rise and Fall of Charles Lindbergh by Candace Fleming: this nonfiction read reveals the darker side of this American Hero.
Graphic Novels:
Superman Smashes the Klan by Gene Luen Yang for ages 10+
When Stars are Scattered by Victoria Jamieson and Omar Mohamed for ages 10+
The Oracle Code by Marieke Nijkamp for ages 12+
Dragon Hoops by Gene Luen Yang for ages 12+
Donut the Destroyer by Sarah Graley for ages 8+
Happy holidays and until next time, happy reading!
---
Library column for November 11, 2020
By Rachelle Golde, Litchfield Children's Librarian
Hello from the Children's Desk!
November is international children's picture book month.  The American Library Association will celebrate its third year as a partner with the annual Picture Book Month.  Author Dianne de Las Casas founded this library celebration with co-founders Katie Davis, Elizabeth O. Dulemba, Tara Lazar, and Wendy Martin; all of them are authors and illustrators of children's picture books.  Picture Book Month was established as an international literacy movement to focus on printed books in an ever-increasingly digital age.
While reading picture books in any format promotes early literacy skills such as building vocabulary, narrative skills, letter knowledge, and phonological awareness, there is something magical about snuggling up with a child or a group of children to share a picture book.   Picture books are meant to be shared. Typically, we share them with young children; however, older children, teens, and even adults often find connections and enjoy reading and or listening to a picture book. They make us laugh and sometimes cry, and most often, the stories will stay with us long after we have finished reading the book.  Many of us can recite picture books or parts of our favorite titles from when we were children.  I encourage you to share a picture book with someone this November.  Picture books also make fantastic and creative gifts for people of all ages.  As children's author, poet, teacher, and editor Emilie Buchwald states, "Children are made readers on the laps of their parents." However, the word "parents" can be substituted for grandparents, older siblings, and childcare providers.
Picture books bring us closer together physically, emotionally, and socially. Through rich text and vibrant pictures, we can engage, captivate, and teach children about the world. Picture books share information and stories about the world that is often different from the child's current known world; this discovery will broaden their ideas, knowledge, and understanding of more of the world in a safe and secure way. Children can take in as much as they like while reading or being read to and rediscover new truths and ideas from the same picture when re-read or perhaps re-discovered many years later. Greg Pizzoli, children's book author, states that picture books "make a space for them [children] to be absorbed into a world different than their own lives, which in turn, make their worlds a bigger and more interesting place to live."
As part of Picture Book Month, there will be a new daily post from a picture book champion about the importance of picture books. Visit www.picturebookmonth.com to read these short articles throughout November.
Check out a picture book or perhaps a stack of picture books to share with a loved one this month. The Litchfield Public Library has many brand-new books available, Thanksgiving-themed books, and old favorites to rediscover or share with someone for the first time. Call the Litchfield Public Library if you need help locating a title or make a 15-minute browsing appointment to explore the shelves yourself.
The Litchfield Public Library has digital storytimes posted to our website with new storytimes added weekly. The Litchfield Public Library will also have Take and Make kits available throughout the month. Check the library's website at www.litchfield.lib.mn.us  or find us on Facebook and Twitter to get up to date information about available programs and services.
Until next time, happy reading!
---
Library column for October 14, 2020
By Rachelle Golde, Litchfield Children's Librarian
Hello, from the Children's Desk!
The month of October brings us a lot to celebrate. This week we have Columbus Day,  Farmers Day, National M&M Day (Oct. 13- Do you have some M&Ms to observe the occasion?), Boss's Day, Sweetest Day, and of course, the most well-known of them all – Halloween.  There are many other celebration days that I did not list. It's a fun Google Search to see what celebration days we have coming up and fun ways to participate in them.  However, I wanted to highlight another celebration day on October 12th, Indigenous Peoples Day.
Indigenous Peoples Day is a time for reflection, honor, and remembrance of Native American peoples. The state of Minnesota adopted this celebration in 2016. Some have even stopped celebrating Columbus Day due to its controversial history.  You can read more about this celebratory day online.  To honor and encourage reflection and remembrance of Minnesota's and our country's great Native American history, I encourage you to read a book by a #OwnVoices author.  My suggested children's titles that are on the shelf at the Litchfield Public Library include:
"Indigenous Peoples' History of the United States for Young People" by Debbie Reese
"Apple in the Middle" by Dawn Quigley
"Fry Bread: A Native American Family Story" by Kevin Noble Maillard
"Thunder boy Jr" by Sherman Alexie
"Bowwow Powwow" by Brenda J. Child
Another October celebration that librarians have a lot of fun with is the nationwide celebration of teens, TeenTober, hosted by libraries. At the Litchfield Public Library, we aim to create collections, programs, and services to help teens learn and discover new books and resources for education and entertainment.  For this TeenTober, Litchfield and Atwater libraries will be hosting a digital teen program. Teens can interact with each other and use their creative talents to generate a final digital project. For more information, contact Margaret Weigelt at 320-974-3363 or 320-693-2483. This digital event is scheduled for October 31st at 1:30 pm.