by Beth Cronk, County Librarian
This year's Adult Winter Reading Program began January 15 at the Litchfield Public Library and runs until March 15. Sign up any time in January or February.
As in previous years, participants read and rate books to earn prizes. Winter can be a good time to have a reading goal, and this year it's true more than ever. Participants get one prize after reading 3 books, and another after reading 3 more.
It's possible to participate in this year's program without ever setting foot inside the library if you choose. Everything can be done either inside the library or through curbside service.
To participate in the program, ask to sign up when you call from outside to pick up your things curbside, or sign up when you're in the library for a Library Express appointment. Participants will get a reading log, a bookmark, and a small portable hand sanitizer container with a clip. The hand sanitizer is this year's sign-up incentive instead of the usual tote bag. Bags will be available as a prize choice.
Any type of book can be counted for the program: new or old, library book or your own, fiction or nonfiction, ebook, audiobook, or print. Write down your books on the reading log and rate them.
When you have read 3 books and again when you have read 3 more, you can turn in your reading log inside the library at your Library Express time and claim your prizes on the spot, or you can put your reading log in the book drop to get your prizes through curbside pickup. Before dropping the sheet into the book drop, be sure to write down your prize choice. Library staff will be in contact if that prize is no longer available. If you have your heart set on a particular prize, turn in your sheet after reading 3 books so that it's more likely to still be available. We'll return your sheet to you with your first prize so that you can complete the program.
Prize choices this year include a mug, a tote bag, a memo book, a large candy bar, and an insulated bottle cover.
So what will you read if you participate in the adult winter reading program? You could look for ideas among the most popular books at the library from this past year.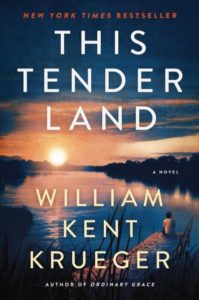 The most popular adult novel in Pioneerland Library System in 2020 was This Tender Land by William Kent Krueger. Krueger is a beloved and best-selling Minnesota author, known for his Cork O'Connor mystery series set in northern Minnesota. "This Tender Land" is his newest novel, released in late 2019, but it is not part of that mystery series. It's a standalone coming-of-age novel about 4 orphans, set in the 1930s. Hutchinson Library has chosen this book for their One Book, One Community read for this year.
The other novels in the adult fiction top 10 for last year were Where the Crawdads Sing by Delia Owens, The Giver of Stars by Jojo Moyes, Camino Winds by John Grisham, Long Range by C.J. Box, Masked Prey by John Sandford, Blue Moon by Lee Child, A Walk Along the Beach by Debbie Macomber, The Guardians by John Grisham, and A Minute to Midnight by David Baldacci.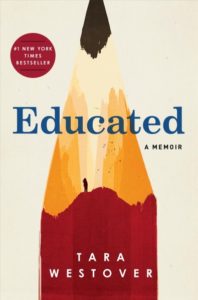 The most popular adult nonfiction book in the library system last year was Educated by Tara Westover. This memoir from 2018 tells the author's story of growing up in a survivalist family in rural Idaho and how she educated herself to transform her life.
The other books in the adult nonfiction top 10 for 2020 were Before and After: The Incredible Real-Life Stories of Orphans Who Survived the Tennessee Children's Home Society by Judy Pace Christie, Becoming by Michelle Obama, The House of Kennedy by James Patterson and Cynthia Fagen, The Splendid and the Vile: A Saga of Churchill, Family, and Defiance During the Blitz by Erik Larson, Too Much and Never Enough: How My Family Created the World's Most Dangerous Man by Mary L. Trump, Untamed by Glennon Doyle, White Fragility: Why It's So Hard for White People to Talk About Racism by Robin DiAngelo, Just Mercy: A Story of Justice and Redemption by Bryan Stevenson, and Finding Chika: A Little Girl, and Earthquake, and the Making of a Family by Mitch Albom.
Whether you like to read the most popular books or you want to find something obscure, the library staff is always happy to help you find a book you want to read.