Reading books set in other times of history can give us insight into those times and sometimes our own. It can also be a good escape, especially these days when we're living through our own difficult and interesting time in history. Won't it be interesting to see what novels will be written about our current era in the future?
A number of new books at the Litchfield library are classified as historical fiction.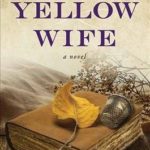 Yellow Wife by Sadeqa Johnson is a novel set in the South in the 1800s. Pheby, the main character, is born a slave. Light-skinned, the daughter of the plantation's medicine woman, and doted on by the master's sister, Pheby grows up sheltered and is promised her freedom upon her 18th birthday. Instead, she is sent to the infamous slave jail, Devil's Half Acre. Once there, she has to contend with the notoriously cruel slave trader Robert Lumpkin, and her life goes in a surprising direction. Based on a true story, this novel is described as well-researched and moving with a compelling narrator.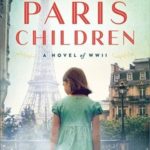 Another novel inspired by a true story, The Paris Children by Gloria Goldreich is a novel set during World War II. Madeleine Levy was the granddaughter of World War I hero Alfred Dreyfus, and she stepped up to do her own part to fight for France as a member of the resistance under German occupation. Madeleine was a young social worker when she began rescuing Jewish children and smuggling them out of the county. The novel illuminates the good that was done amidst this bleak and dangerous time.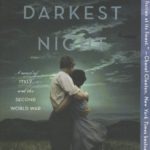 World War II is an ever-popular time period for novels. Our Darkest Night by Jennifer Robson is another of our new books set in that time. Antonina is a young Jewish woman in Italy, where the Nazis are occupying most of the country. In an attempt to survive, she leaves Venice and poses as the new bride of a man who left seminary to run his family's farm. Nina and Nico must put on a convincing front for the neighbors and for a Nazi official who harbors a vendetta against Nico. This novel is also inspired by real-life events.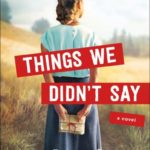 Minneapolis writer Amy Lynn Green is a finalist in the genre fiction category of this year's Minnesota Book Awards for her debut novel Things We Didn't Say.  This epistolary novel (a novel in letters) tells the story of U of M linguistics student Johanna Berglund who is sent to her small Minnesota hometown to work as a translator at a German POW camp during World War II. Johanna finds townsfolk hostile to the Germans, while she becomes sympathetic to the POWs after interacting with them and censoring their letters. This Christian fiction novel examines issues of prejudice, compassion, and treason.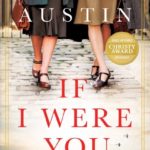 Another work of Christian historical fiction, If I Were You by Lynn Austin is set in and after World War II. Audrey is a widowed war bride from England who comes to America with her young son in 1950, seeking her American in-laws whom she has never met. She discovers that her longtime friend Eve has been impersonating her in the U.S. for four years. Eve's mother was Audrey's mother's servant, and the pair of young women had worked together as ambulance drivers in the war. The focus on the pair's friendship in the midst of class differences gives this a bit of a new spin on the World War II novel.
Other recent additions in the historical fiction vein include Endless Mercy by Tracie Peterson and Kimberley Woodhouse, The Cowboy Who Saved Christmas by Jodi Thomas, and When We Were Young & Brave by Hazel Gaynor. Whether you pick them up curbside or set up a Library Express appointment to come inside the library, library staff are happy to help you order and check out novels that carry you away to different times and places.