by Miss Rachel
11/8/23
If you were fortunate enough to come to the library for our visit from James Vukelich Kaagegaabaw, then you may already have a good start on reading material for the month of November, which is Native American Heritage Month. He wrote the book "The Seven Generations and The Seven Grandfather Teachings," where he reflects on the history of words and traditions of the Ojibwe people. In his presentation, he talked about the importance of sharing these teachings and passing them down for future generations. Part of his work is in keeping the language alive.
Even if you weren't able to make it to James's presentation, you can still find plenty of books, including his own, here at the library to learn about Native American traditions, languages, and customs. This is a great time to learn with your younger readers – take the opportunity to learn from some of our new picture books or middle grade novels.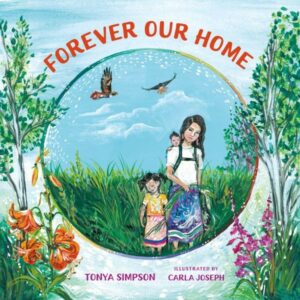 "Forever Our Home" by Tonya Simpson and Carla Joseph
This gorgeous book celebrates the nature that is home. From the grasses on the ground to the birds in the sky, everything is a gift that connects us to the earth. Tonya Simpson writes a heartwarming debut picture book featuring the incredible artist Carla Joseph as illustrator. These pictures are beyond comparison. Readers of all ages will feel the sunshine come off the page and warm them as they read this book.
"Still This Love Goes On" by Buffy Sainte-Marie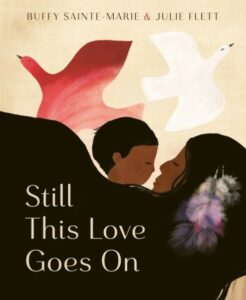 As the seasons change around us, this book illustrates those transitions in a soft, cozy way. Buffy Sainte-Marie published this book using the lyrics of her song by the same name. She incorporates Indigenous traditions into the passing of each season, making the reader feel like a part of a greater community. Julie Flett captures joy in each page with her simple yet dynamic illustrations.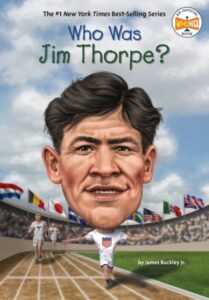 "Who Was Jim Thorpe?" by James Buckley Jr.
For anyone looking to learn a bit of history, the publishing company Who HQ produces books that teach all about important people and events in history. These books are written in a way for younger readers like a short novel with plenty of pictures and quick chapters. This book tells the story of Jim Thorpe, a Native American athlete who grew up to win two Olympic gold medals. Learn more about him when you read this super informative book!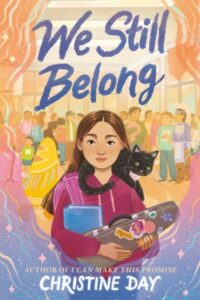 "We Still Belong" by Christine Day
Many middle schoolers struggle with identity and figuring out who they want to be. Wesley writes a poem for Indigenous Peoples' Day, but she ends up feeling as though it's not enough. In addition to her struggle of fitting in within her Native community, Wesley also has to figure out her place at her middle school and find her voice.
In addition to these newer books, we have a wide range of books by and about Native American people. Many of these picture books, board books, middle grade, and even YA books are featured in a display that will be up for a couple of weeks in the children's section of the library. Come take a look at all the Indigenous American books in our collection.
Our STEAM lab activity this month is based on the Native American tradition of weaving. Weaving is an Indigenous innovation that allows for native people to make baskets, mats, hats, rugs, and blankets. This craft can be done with animal or plant fibers – but for our STEAM lab, we're going to use paper bags! Kids in grades kindergarten through grade five are welcome to sign up (ages eight and younger must be accompanied by an adult). Please make sure to sign up in advance to ensure that we have enough materials and space for everyone.
If you are looking for some resources to teach your young ones about Native American history or culture, the library has many books and items for you to check out. Perhaps you want to learn something for yourself – don't hesitate to check out books at any level. Picture books can teach readers of all ages, and we have plenty here at the library!