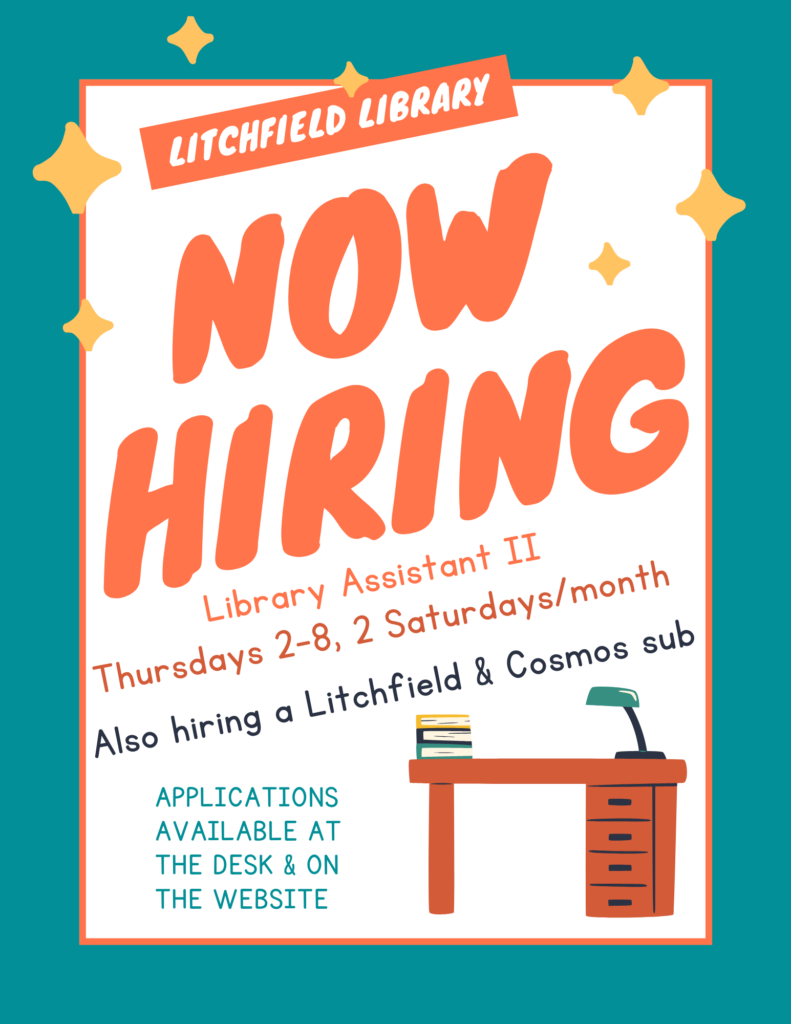 JOB OPENING: LIBRARY ASSISTANT II – UPDATED
LITCHFIELD PUBLIC LIBRARY
Job description: Provides clerical functions by performing various circulation responsibilities and tasks.  Provides circulation, reference, and research services to library patrons. Fills interlibrary loan requests.
Knowledge, skills, & abilities needed:  Knowledge of library operations and procedures.  Skill in the use of computers and other technology used in the library.  Ability to work effectively with the general public.  Ability to maintain cooperative working relationships with coworkers.  Good communication skills.  Attention to detail and able to follow written and oral instructions.
Minimum qualifications: High school diploma or equivalency, plus six months of directly-related experience, or a combination of education, experience, and training necessary to perform the essential requirements of the work.
Physical Requirements:  Must be able to walk, stoop, crouch, reach, lift, feel, grasp, talk, hear and see.  Some light lifting and carrying may be required up to 25 pounds.
Hours:  2-8 pm Thursdays, plus the second Saturday of the month 10 am-5 pm and the fourth Saturday of the month 9:45-5.  Additional subbing as needed.
Also hiring a substitute Library Assistant II for Litchfield and Cosmos libraries.
Starting pay: $12.51 per hour
Official Pioneerland application must be turned in to be considered. These can be picked up at the library or found at https://www.pioneerland.lib.mn.us/files/2022/05/Job-Application-05_2022.pdf
Submit applications by October 4 to:
Beth Cronk
Litchfield Public Library
P.O. Box 220
Litchfield MN 55355
Questions: (320) 593-9447