by Beth Cronk, County Librarian
Renowned film critic Roger Ebert once said "Art is the closest we can come to understanding how a stranger really feels." When we watch a movie or read a book, we get a window into another person's life. This year's Oscar-winning movies give us a window into the lives of a multiverse-hopping middle-aged Chinese immigrant, a reclusive English teacher, a group of women in crisis in an isolated religious community, a grief-stricken scientist in a futuristic African country, and a hotshot Navy test pilot returning to an elite training program. These movies are available to check out at the Litchfield Library.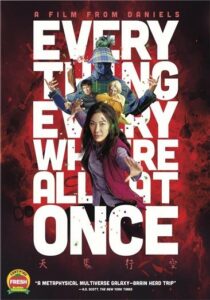 Everything Everywhere All at Once was the big winner at this year's Academy Awards. It won the awards for Best Picture, Original Screenplay, Directing, Actress in a Leading Role (Michelle Yeoh), Actress in a Supporting Role (Jamie Lee Curtis), Actor in a Supporting Role (Ke Huy Quan), and Film Editing. Yeoh plays weary laundromat owner Evelyn, who is going through an IRS audit, marriage troubles, a surprise visit from her difficult father, and a strained relationship with her adult daughter. In the midst of a meeting with an IRS employee, Evelyn discovers parallel universes when a different version of her husband arrives to help her jump between them.
This science fiction dramedy is an absolutely weird and wild ride, so it does not appeal to everyone everywhere. But if you can suspend disbelief for this reality-bending movie, you'll find a heartfelt look at family relationships and the paths our lives take based on the choices we make. The movie has some beautiful lines, including this one: "In another life, I would have really liked just doing laundry and taxes with you."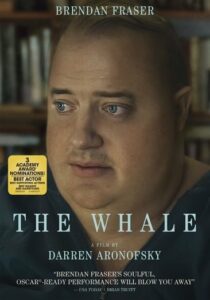 The Whale is a drama that won two Oscars: Actor in a Leading Role, and Makeup and Hairstyling. Brendan Fraser won the acting award for playing a reclusive teacher who suffers from severe obesity. He attempts to reconnect with his estranged teenage daughter, played by Sadie Sink. The movie is based on a 2011 play. Reviews of the film are mixed, especially because of the way the main character's weight is depicted, with Fraser donning prosthetics to play the character. However, Fraser's performance is acclaimed as sincere and subtle. Hong Chau was also nominated as a supporting actress for this film.
Women Talking is a drama based on the 2019 novel with the same title by Miriam Toews.  Toews in turn based her novel on a true story of an isolated Mennonite community in Bolivia in 2009. A series of horrific assaults were carried out by a group of men on the women and children in their religious community for four years. In the novel, Toews imagines the women meeting secretly in a hayloft to decide what to do. The movie also centers on the meetings, as the women decide what course of action to take: do nothing, stay and fight, or leave. This spare, unconventional film won the Academy Award for Best Adapted Screenplay, and it was a nominee for Best Picture.
Black Panther: Wakanda Forever is a fantasy adventure movie, the sequel to Black Panther and part of the Marvel Cinematic Universe series. This film won the Oscar for Costume Design, and it was nominated in the categories of Actress in a Supporting Role (Angela Bassett), Visual Effects, Original Song, and Makeup and Hairstyling. Because of the death of actor Chadwick Boseman who played King T'Challa, the Black Panther, this emotional and action-packed sequel opens with the nation of Wakanda and the royal family mourning the character's death. T'Challa's sister and mother work to defend their country from attacks as they come to terms with their grief.
Top Gun: Maverick is the sequel to the 1986 blockbuster Top Gun. Longtime Navy pilot Maverick returns to the Top Gun program to train an elite group of pilots for a nearly impossible mission – a group that includes the son of his late best friend Goose. Filled with high-flying action and a generous dose of nostalgia, this movie won the Oscar for Best Sound, and it was nominated for Best Picture, Adapted Screenplay, Visual Effects, Song, and Film Editing.
When you watch a movie – or read a book – you can get a window into the lives of others, even if the story is imaginative and fantastical. And sometimes you can find a short escape from the daily stresses of life through the magic of the movies. Whether you want to stretch yourself or do some comfort-watching, the library can supply you with new movies that are acclaimed, popular, and unique.