by Miss Rachel
November encompasses a few different themes and holidays: Thanksgiving, Native American Heritage Month, Veteran's Day, No-Shave November, elections, and many more. If you're a bibliophile (lover of books), you may be familiar with the idea of Nonfiction November. Parents and educators can find it difficult to get kids interested in reading nonfiction for enjoyment. While we encourage all kinds of reading, nonfiction choices can benefit your young reader in various ways.  So how do we find choices that will excite our younger readers? The good news is that the ways in which authors are addressing nonfiction have evolved to make the genre seem less textbook-like and more like a good novel you can really sink your teeth into!
Reading about true events or real people can help everyone to learn more about a topic they are interested in or about something they've never known before. But additionally, informational (nonfiction) texts in comparison to literary (fictional) texts become more of a focus in education as they get older (especially in terms of testing). Any additional nonfiction reading that a student does can benefit them as they move through each grade level. Just like any other activity or sport, practice makes progress.
The graphic novel format is becoming more common in the world of nonfiction, too. That's right: you can find graphic novel memoirs, graphic novel accounts of specific events in history, even a graphic novel history of the world! But we also have a large number of picture books, easy readers, middle-grade books, and YA books too. Whatever topic your young reader is looking for, we can find a text to fit!
We have a ton of new nonfiction books at the library to check out with your young readers. Here are just a few that you can check out when you visit!
For the younger readers:
"Pizza! A Slice of History" by Greg Pizzoli: It's hard to say no to pizza! This book features a narrator "pizza rat" to help readers explore the history of pizza and how pizza varies all over the world. This is quite a flavorful choice for a picky reader!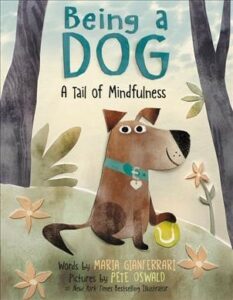 "Being A Dog: A Tail of Mindfulness" words by Maria Gianferrari and pictures by Pete Oswald: As meditation and mindfulness continue to grow in popularity, authors are finding ways to teach even young readers about how to be mindful. This book follows a dog and his owner as they find ways to be present through each moment of the day.
"Finding My Dance" by Ria Thundercloud: Ria's debut picture book is an account of her own experiences as a dancer. She recounts how dance helped her find ways to express herself, especially when she felt like an outsider. The beautiful illustrations bring this true story to life.
For the middle grade readers: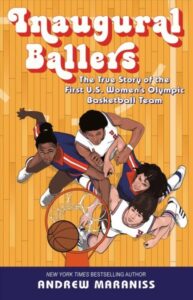 "Inaugural Ballers: The True Story of the First US Women's Olympic Basketball Team" by Andrew Maraniss: This is the story of the origin of women's Olympic basketball. The 1976 U.S. women's basketball team came together from various schools around the country to lay the groundwork for the future of women's sports. The photos throughout this book help readers to feel the impact in history.
"Why Humans Build Up: The Rise of Towers, Temples and Skyscrapers" by Gregor Craigie: Packed with information, this book explores history, functionality, utility, and so many other aspects of towers, temples, and skyscrapers around the world. With tons of illustrations, photos, and diagrams all spread throughout the clearly-labeled chapters, readers can find whatever structure they are looking for!
For the teen readers:
"Race to the Bottom of the Earth: Surviving Antarctica" by Rebecca E.F. Barone: This book reads so much like a novel that you forget you're actually reading nonfiction! Barone incorporates two different journeys to the South Pole in two very different time periods. This is a good choice for anyone who likes stories of survival!
"Storybooth" by Marcy Kaye and Josh Sinel: The inside cover of the book says it best. "The book you are about to read is one hundred percent real. Its stories are told by brave teens bold enough to share a piece of themselves with the world. These are their true confessions, secrets, struggles, embarrassments, heartbreaks, and the truths that make up their lives." If your teen is needing connection, this book brings it.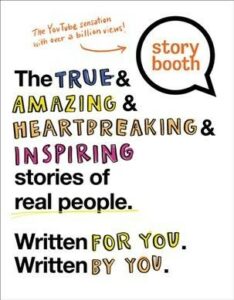 These books are just a small sampling of the new nonfiction books we've acquired lately for our younger readers. Come take a look at our new books bookshelf to check these and other nonfiction books out – maybe Nonfiction November can bring everyone together, much like a tasty Thanksgiving turkey!