by Beth Cronk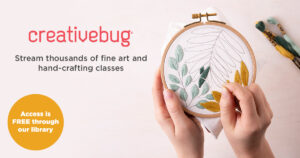 Pioneerland Library System is now offering access to Creativebug, a website with thousands of award-winning art and craft video classes. This service is being provided by Prairielands Library Exchange, an organization that exists to help support public and school libraries in southwestern Minnesota. We are excited that our library users can now use their library cards to access these online classes taught by recognized design experts and artists.
You can find the link to Creativebug on the left bar of the Pioneerland website or the Litchfield Library website: litchfield.lib.mn.us.
Once you have entered your library card number, the site will prompt you to create an account. Through your account, you can keep track of where you left off in a class and which videos you have watched, and you can be notified of new classes on topics you're interested in. You can even upload photos of your own projects to share, if you'd like.
Class topics include art and design, sewing, quilting, paper, knitting, crochet, food and home, jewelry, holiday and party, and kids.
One interesting feature the website offers is daily practice. Intended to be a way to challenge yourself to a month of making, the website offers 30-day prompts for daily art practice. There are over 60 daily practice series to choose from, such as hand stitching, watercolor and colored pencil, bookmaking, and rubber stamp carving.
Beyond the video classes, the Creativebug website also offers downloadable knitting and crochet patterns.
New classes are being added to the website all the time. Recent classes are titled "Magpie Sketchbook: Collecting a Resource of Imagery," "Make Watercolor Marbled Hair Clips with Polymer Clay," and "Keeping a Sketchbook: A Daily Practice." Upcoming classes include "Design Your Own Crochet Shawl," "Sew a Puzzle Ball," and "Make the Rainbow Road Mini Quilt."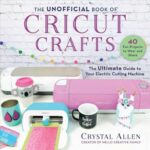 If video classes aren't your thing but you enjoy art or crafting, you can choose from a wide variety of books in the library to learn more. One new addition to the Litchfield collection is The Unofficial Book of Cricut Crafts: The Ultimate Guide to Your Electric Cutting Machine by Crystal Allen. This book explains the difference between different Cricut models, gives the beginner a general orientation to their machine, and includes forty projects using a wide range of materials.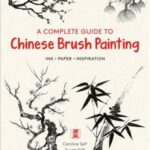 For those interested in painting, look for the new book A Complete Guide to Chinese Brush Painting: Ink, Paper, Inspiration by Caroline Self. Considered a meditative discipline to train the body, this artistic style has been used for thousands of years. This book teaches beginners step by step to paint with black watercolor or ink on white paper, working through 35 projects that include bamboo stalks, a pine tree, and a waterfall.
Litchfield Library has an especially large collection of fiber arts books, plus books on most other craft and art topics at a variety of levels of skill. As always, more books can be ordered from other libraries throughout the library system and across Minnesota that cover your area of interest.
Crafting and art have many benefits: they can reduce stress, improve mood, and reduce cognitive decline, as the activity brings you into a focused, almost meditative state. Whether you're a beginner or an experienced artist or crafter, the library can be a resource for your creativity.