by Miss Rachel
When you hear the words "summer" and "slide," you pro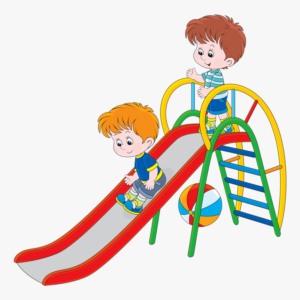 bably think of a playground or a water park with lots of fun. But if you have experience in the field of education, you might put them together as the less pleasant "summer slide" that can occur to young learners each year.
According to a Scholastic article from 2019,
"The concept of the summer slide has been on researchers' radar since at least 1996, when one of the first comprehensive studies on the phenomenon was published. The study showed that kids lose significant knowledge in reading and math over summer break, which tends to have a snowball effect as they experience subsequent skill loss each year."
Students everywhere are already working hard to make sure they are academically on track from the Covid-19 interruptions in learning. Educators everywhere are working tirelessly to ensure students are successful. But combining this with a summer slide can make things more difficult for everyone. So what can we do?
Go to the library!
I'm not just promoting the library because I work here – we have resources that can help everyone! The most effective activity we can promote to young learners is to simply read. Read what you want. It doesn't matter if it's fiction or nonfiction, a Lexile level that's way lower than what you're capable of reading or right at your level: just read what you like! If your young reader needs help figuring out what they like, bring them to the library and we will gladly help!
During the summer months, we have our summer reading program to help our younger patrons get excited about reading. Kids and teens are challenged to read along with other fun and healthy endeavors, and then they can come in for their prize when the challenge is completed. You thought that was all? Think again! They can take more copies of the challenges home and do them again to earn even more prizes.
If you have little ones at home, come over on Friday mornings at 10:00 for our storytimes. We like to sing, read, make crafts, do fun activities – all the good stuff! We even invite some guest speakers/readers occasionally to bring in some expertise on things like wildlife in Minnesota and dairy farming. We try to get your little ones excited about books and learning.
It's also a good idea to get crafty in the summer to get imaginations flowing and the brain wheels turning. Putting together crafts isn't your thing, you say? The library has you covered there too! We offer a monthly take-and-make craft kit for our young library patrons. Don't stop there though: we have plenty of books on making different kinds of crafts to help inspire all kinds of ideas!
The Southwest Initiative Foundation awarded the library some money to help us with some awesome Discovery Boxes for young children. These boxes offer a wide variety of activities to help little ones learn about letters and numbers, music, money, and community! The STEAM boxes give families opportunities to learn about astronomy, fossils, magnets, microscopes, and even gravity! All of these are available to be checked out to patrons.
Get everyone in the family on board with reading! Our little ones look up to us. If they see us reading and enjoying it, they're more likely to get excited about reading. Don't think you can handle doing weird voices for all the stories your child brought home from the library? Just remember that a good rule of thumb is that the more embarrassed you are, the more entertained your child is! You stumbled on a word? Good! Show them it's okay to make mistakes. Don't know a word? Even better! Look it up and use it as an opportunity for everyone to learn. By reading throughout the summer, you can instill good habits in your lifelong learners.
Austrew, Ashley. "How to Prevent Your Kids from Losing What They Learned in School during Summer Vacation." Scholastic, 5 June 2019, https://www.scholastic.com/parents/books-and-reading/raise-a-reader-blog/summer-slide.html.