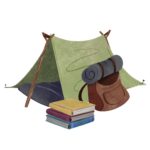 by Beth Cronk
This summer, the Litchfield Public Library and other libraries in the area invite kids to "Read Beyond the Beaten Path." This summer reading program at the Litchfield Public Library begins June 1. We're excited about the camping and nature vibe of this theme. Look in the children's department for an inflatable campfire, posters that look like signs you'd see in a park, and some other outdoorsy décor, which should present some fun photo ops for parents and grandparents.
To participate in the summer reading program, kids can sign up any time all summer from June 1 until August 19. When they sign up they'll get a book bag, a pencil, a bookmark, and a reading log. They can also take some bonus activity sheets if they're interested. The program is open to kids from preschool to age 18.
The summer reading program is always self-paced. Children work their way through the reading game sheets (printable from home here if you wish: LF SRP22 kids reading logs), earning spaces by reading or being read to for 20 minutes (counting up to an hour a day) and by doing other activities like going for a nature walk, reading aloud to a person or a pet, or asking library staff for a book recommendation. Teens have a different reading log (printable from home here if you wish: LF SRP22 Teen reading log) which simply counts hours spent reading. Whenever kids bring in a completed sheet, they can choose a small prize, and they'll be entered into a monthly prize drawing as well.
The goal of the summer reading program is to encourage kids to read all summer long so that they keep up their reading skills and return to school in the fall ready to learn. Because of that, kids can do one sheet after another all summer until late August and keep earning prizes.
Storytimes will be held at 10 a.m. on Fridays in the empty lot next to the library, from June 10 to August 19. These are geared to age 6 and younger, but older siblings are welcome to come along. Bring chairs or a blanket to sit on.
Two of our storytimes will be special events in June. On Friday, June 17th, a presenter from the Minnesota Department of Natural Resources will be here to talk about wild animals in Minnesota. On Friday, June 24, the Meeker County Dairy Princesses will be presenting a storytime and making ice cream in a bag with the kids. Both of these programs should be fun for older kids, too.
STEAM Lab is a science, technology, engineering, arts, and math program for elementary school-age kids. During the summer the program will be held in the lot next to the library. If the weather doesn't cooperate, it will be held in the library's meeting room. Kids need to sign up in advance for the program since attendance is limited, but it is free to attend like all library programs. The programs will be at 10 a.m. one Wednesday morning a month, June 8, July 13, and August 10.
We will continue to offer Take & Make kits for kids this summer. They will be craft kits that fit the camp theme.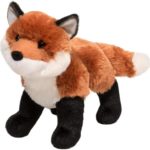 Tales the fox will be hiding around the children's department all summer. When kids spot the stuffed animal, they can tell a library staff member and get a sticker.
Kids in Dassel, Grove City, and Cosmos can also participate in Read Beyond the Beaten Path at their local libraries, beginning June 6. Those libraries will also be festively decorated for the theme, and they'll offer the same self-paced reading program and a variety of fun prizes, as well as a June storytime in each location with the Dairy Princesses. Visit the websites or Facebook pages of any of the four Pioneerland libraries in Meeker County or visit them in person to learn more about what they're offering for kids this summer.