by Beth Cronk, Meeker County Librarian
So many exciting new things are happening at the library these days. I'll highlight a few: fine-free youth materials, Chromebooks, and the adult winter reading program.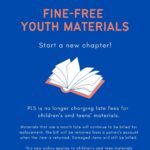 As of January 4, Pioneerland Library System is no longer charging late fees on youth materials. This applies to children's and teens' books, CDs, and DVDs. You can identify them by the call number on the spine label and in the catalog: they'll start with J, E, B, and YA. It doesn't matter whether the person who checked them out is an adult or a child.
If youth materials are a month overdue, a replacement bill will still be issued for them. But once they're returned, no late fees will be charged and that bill will be removed. Damaged items will still be billed for replacement.
You might be wondering why our library system is doing this and whether people will still return books when potential late fees aren't hanging over their heads. Library systems around the country have been moving to this policy in recent years, some for children and some for everyone. What they've found is that people do still return things, that people check out more when they don't have to be afraid of late fees, and that it improves access for people who can't afford to pay fines. Public libraries exist to give people access to materials, and what's more important to our mission than making books as accessible as possible to children?
If you have old late fees on your account for juvenile or YA materials, talk to library staff about getting those removed. If you have items that you've had out for months or years, drop those off. If they're kids' materials, your bill will be reduced to zero. If they're adult materials, the fine will drop to $3 per item.
Next new development: Chromebooks and mobile internet hotspots. Our library system applied for funding to get basic laptops, called Chromebooks, that can be checked out and brought home. We have had laptops and iPads available to checkout for use inside the libraries for years. The new Chromebooks check out for four weeks and can be taken out of the library. We have had mobile wi-fi hotspots available to borrow since 2020, but we are about to get some more that will be available until June. If you don't have wi-fi at home or in the location where you'll be using the library laptop, you'll want to also request a hotspot.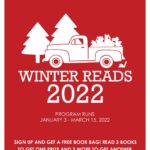 The adult winter reading program, called Winter Reads 2022, is underway and will run until March 15. Prize choices include a mug, a stainless-steel tumbler, a bag clip, a carabiner key chain, a book light, lip balm, and an extra-large candy bar, while supplies last. Stop into the library to sign up anytime between now and early March, and set yourself a goal of reading three or six books before the program is over. The entire program can be done via curbside pickup if you wish.
People still ask if the library is open. It is, and it has been without restrictions for many months. Walk in anytime the library is open, and you can check out kids' materials without worry about late fees, check out or reserve a laptop and/or internet hotspot, and sign up for the adult winter reading program. You can still use the library without coming inside, as well, by using curbside pickup, ebooks (including our new Tumble Books service for kids), and staff assistance via phone or email. Whether you visit the library or use the services from home, we are always happy to help.