by Beth Cronk
The Litchfield Library has something new and different to check out: memory maker kits. These kits are intended to be used with people who have dementia. Our three kits were funded by the Friends of the Litchfield Public Library. Thank you to them for helping us offer these to the community!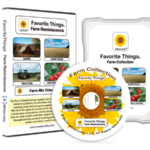 The memory maker kits at the Litchfield Library are from MEternally, a Minnesota company that specializes in kits made for reminiscence therapy. Reminiscence therapy, according to the National Library of Medicine, involves the discussion of past experiences with the aid of prompts such as photographs, items from the past, and music. The items in the kits from MEternally can serve as a springboard for sharing memories with loved ones and caregivers, and they can bring about the happiness and comfort that come from remembering familiar things.
Two of our new kits each contain a DVD and a pack of 40 large laminated cards in a zippered pouch. The themes are "farm" and "homemaker." The cards in each kit feature photos of items related to the theme, as well as some activities that people can do together, such as suggested questions to ask, simple games to play, and songs to sing. The DVDs each have four slowly changing slideshow-style videos made up of photos and video clips with soothing background music.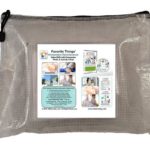 The farm reminiscence kit has four topics on the DVD and cards: barns, farm fields, tractors, and vegetable gardens. The homemaker kit features housekeeping, sewing, laundry, and handicrafts such as knitting.
Our third kit is different. The hard plastic case contains two objects called busy bottles, which are sealed bottles filled with colored rice and small objects that fit the theme. To use them, you gently spin the busy bottles and look for the hidden items. This kit has a theme of the 1950s and 1960s, with one bottle for each. The kit also includes four laminated cards with pictures of the items in the bottles, along with two dry erase markers and two erasers, so that a pair of people can play with the bottles together and mark off each item when they spot it. Another activity about the '50s and '60s is on the back of each card.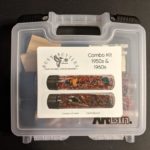 These kits are currently on display above the DVDs, but once our dementia display comes down, we'll find another place to store them. If you'd like to borrow one, you can ask a staff member or search the catalog for "Memory maker kit." If you search the catalog, you'll find that many other kits with different themes are available in our library system. You can order those just like other library items. The kits can be borrowed for four weeks at a time.
Although these kits are intended for use with people who have Alzheimer's disease or dementia, they could be a good tool to use with any elderly person to reminisce together. They could also work well to spark conversations between children and senior citizens.
Once again, thank you to the Friends of the Library for their support of this new type of item in the library collection. I hope that they will be a good resource for local families, organizations, and individuals with dementia.